Which Radar Detector is the best in 2018?
**If you would like to purchse any of these products are absolute bottom price below retail – please contact me via the website contact form. I can not post a source publicly here.
Well, today is 7/10/17. And up to today's date there are 3 major players in windshield mounted Radar Detectors. If you have laminated/acusting windows on your Panamera – dont worry. If you install it all the way up next to the mirror – it will work fine. Im the owner of the Escort Max and it works just fine with my laminated windows.
Whenever you are getting your radar detector, you have to be aware of only few band and frequencies that cops operate on. Below you will see frequencies and type of brands of guns they use to catch your
33.8 Ka…..MPH Technologies (33.7 – 33.9)
34.7 Ka…..Stalker (34.6 – 34.8)
35.5 Ka…..Kustom/Decatur/McCoy's Law Line (35.4 – 35.6)
Make sure you memorize this and once you change your view mode on your detector to spec mode – you will see who is trying to catch you.
Biggest challenge few radar detector now days are false alerts coming from other cars (blind spot detectors, radar cruise controls, cross path detection sensor, etc.) Here is a list of cars with knows 24.xxx frequency false alerts. Here is a list of these vehicles.
Uniden R1 / R3 ($299 / $399)
NEW 2018 RANGE KING! – The best radar with EXTREME long range detection and GPS (R3)
Find it on Amazon | Find it on Ebay
The Uniden R3 is an absolute monster and is my go-to pick as the best radar detector. It's the one I personally run on my windshield to keep me protected. For you guys looking for the best radar detector, this is one of the two radar detectors I'll point you to. (This and the Max360 I'll cover next.)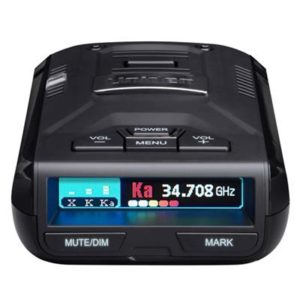 This detector has the highest performance and longest range out of any radar detector ever produced, no matter the price, giving you the highest level of protection while also offering excellent false alert filtering capabilities too, and it only costs $399. When it comes to picking up radar at a distance to give you time to slow down, even in trickier and more difficult situations, while also giving you the false filtering you need, this is it. For those of you guys who need an undetectable radar detector, the R3 will also keep you covered there too.
Now there's actually two versions of this detector, the Uniden R1 without GPS and the Uniden R3 with GPS. If you drive in urban areas, the R3 is the one to get because it offers GPS lockouts (the ability to learn and filter out stationary false alerts from automatic door openers and speed signs), low speed muting when you're driving around town slowly, as well as redlight camera alerts. If you drive primarily in rural areas where you don't encounter those false alerts, the simpler R1 would be the way to go. Personally I'd recommend the R3 for most drivers as it's a more well-rounded detector and the GPS functionality adds a ton of value.
There have been results where the Escort Redline detected threats as far away as 10 miles on wide open roads like in Texas as an example.
Escort Passport Max360 ($523.95)
Find it on Amazon | Find it on Ebay
The best metro/urban area radar detector with GPS, marking and Camera warnings
 The Escort Max 360 is not the longest range radar detector ever made but it is close to the performance of the Escort Redline with the directional arrows of the Valentine One so you can see where the threat comes from. It is however the most sensitive gps enabled radar detector and does replace the Escort 9500ix as the leader in this category.
The Passport Max has an auto learn function that keeps track of your driving and notes every alert it detects in its internal database. AutoLearn technology uses the power of GPS and the exact frequency of the false alert and automatically will reject unwanted door openers and other fixed position false alerts on future passes making it extremely quiet in the city.
For city drivers the use of a radar detector can be a huge annoyance because there are many false alerts that you will encounter. The most common false will be from automatic door openers that share the same frequency of police radar. While these sensors are not looking for speed they are using radar to sense motion and trigger their doors to open when people are walking into the stores.
Sensitive detectors like the Escort Redline or Valentine One will constantly go off because they are so sensitive that they can many times detect these sensors several hundred feet away. I can tell you that running a non gps detector down a main city road with many drug stores or supermarkets the false alerts are almost non stop, Its almost desensitizing that when I see a real threat I can tend to ignore it because I am used to the false alerts in the city.
Negatives:   You bust Subscribe to the Camera Database in order to have all the latest Camera locations. $50/3 hrs.
Escort Redline ($649)
Find it on Amazon | Find it on Ebay
Its a must have detector for Virginia, Washington DC drivers. The Escort Redline is a great detector and 
there is no doubt about that. If you are a highway driver this unit is awesome and it is the most sensitive windshield mounted radar detector ever built to date. Its built on the solid M3 antenna platform which is a dual antenna that offers the best off-axis (around the curve) protection available.
Make sure you get the newest version that has the BS/RDR – which were produced after August 2013. Dont get them from ebay because you dont know what you are getting.
In areas where detectors are not allowed such as Virginia, Washington DC and parts of Canada this detector has been the favorite. Its the only detector in the Top 3 that is undetectable by police RDD's (Radar Detector Detectors) which are devices used to sniff out vehicles using radar detectors in banned areas.
There have been results where the Escort Redline detected threats as far away as 10 miles on wide open roads like in Texas as an example.
The latest firmware update on the Escort Redline with enhanced RDR/BS options enables you to now have advanced Band Segmentation ability. BS (Band Segmentation) allows users to select certain frequency ranges within the KA band to turn on or off. Removing certain bands from the scan that you know are not used in real police radar allows the Redline to scan the KA Band much faster.
RDR (Radar Detector Rejection) option with the new Expert Firmware was not an option you could turn off in previous editions. This option allows the detectors to eliminate False alerts caused from nearby radar detectors in other vehicles.
Using RDR & BS at the same time almost turbo charges the response time of the Redline while not adding many additional false alerts. Since you eliminate segments of the non real police frequencies you can eliminate many of these false alerts and you can use the RDR Off function to dramatically increase the response time of the detector. 
Preferred settings for longest detection: Segment 2/5/8,  RDR-off
Valentine 1 ($489.95)
Find it on Amazon | Find it on Ebay
Good range for the Highway drivers, directional signals and tune it on your Smart Phone.

There could not be a top 3 without it the Valentine One. For many years the Valentine was the leader
of the industry and was considered by enthusiasts the best radar detector around. Times have changed and Valentine has let the Redline pass it as the most sensitive detector. Though not far behind the Redline it is still priced cheaper and is still a great value at $399.95.
The Valentine 1 is a highway radar detector like the Escort Redline. It does not have the stealth capability that the Redline has so if you are in a Virginia, Washington DC or parts of Canada where detectors are banned this is not the detector for you.
What is does have that makes it special is two separate antenna's (One in the Front and one in the Rear) so the valentine can help pin point the direction where the signal is stronger to give you an idea where the signal is coming from. The Valentine is the only detector with a front and rear antenna which can help alert you to the direction of the threat.
In the city, it is as chatty as the Redline. You can download a YaV1 app on your smartphone and you can tune it to your specs including segmentation of different bands.
BEST CUSTOM INSTALLED RADAR DETECTOR
When it comes to custom installed units there is only a few. Dont even bother with big brand names liek Viper or K40. Its a waste of money and the only reason you see dealers installing them is because they receive HUGE incentives on selling them. I know one installer so I know the true story behind it. I would only trust one unit. Beltronics STIR+.
Beltronics Sti-R Plus ($1200)
The best radar for Highway driving with RDD (radar-detector detector) technology
Its the only custom installed radar detector on the market today which utilities Escort & Beltronics M3
platform which in my opinion is the best platform available to date. Its a dual antenna which is completely immune to RDD's (Radar Detector Detectors) so if you travel through areas where radar detectors are banned they can not detect you have a radar detector on.
It's also the only custom installed radar detector which utilizes KA Band Segmentation so you can remove segments of the KA Band that are not used for real police radar which enables it to scan through the frequencies much quicker. Along with KA Segmentation its can also allow you to turn off RDR (Radar Detector Rejection) which normally can delay the detector up to 1/2 second while the detector tries to determine if the alert is a false from a near by leaky radar detector. In an I/O (Instant On) situation this 1/2 second delay could cause the detector to miss one of these quick radar shots.
If you are looking for true stealth installation, one company makes mirrors with displays built in. You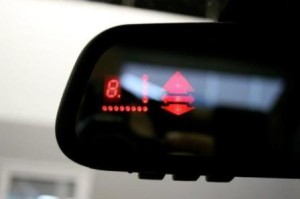 can find them here at RadarMirror. They make them for a variety of radar detectors.  Im not sure if they do make them for Panameras.
Good Source of more information:
Save
Save
Save
Save
Save
Save
Save
Save
Save