As you know, the front bumper is a debris catcher: leafs, rocks, cigarette butts, paper, whatever. That always gets me pissed of because its impossible to clean it up. That stuff doesnt just fall out – it just stays on the bottom of the radiator. Only solution to clean it is to get a yard blower and blow it out (that only works 60% of the time) or you have to remove the bumper (too much work).
I have been looking for a solution to that issue but nobody makes a front end grill. So I decided to make my own grill. and Here is how.
| | | |
| --- | --- | --- |
| [yop_poll id="1″] |   | If for some reason you dont feel like this is a project for you but you do need it – let me know and I will make it for you. Just use the contact form. |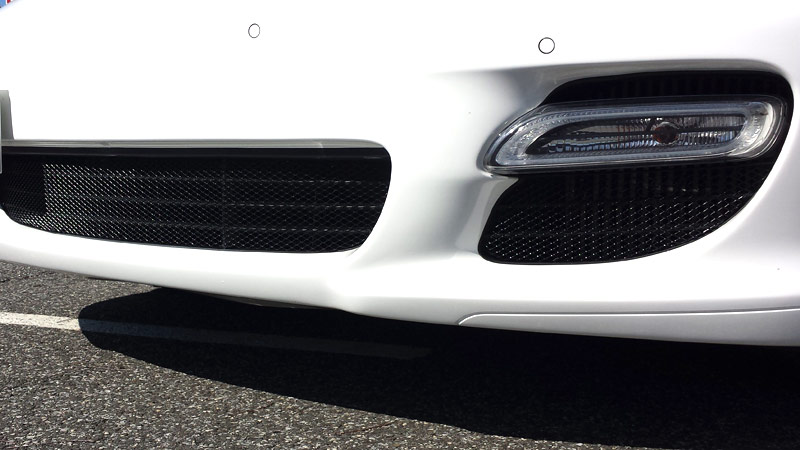 You can purchase a Plastic Version of this grille below:
| | | | | |
| --- | --- | --- | --- | --- |
| Panamera Turbo |   | Panamera 4 / 4S |   | |
1. Go to your local home improvement store like (Home depot or Lowes) and get something called a "gutter guard". Its a black metallic mesh that works great. You can get this mesh material from Home Depot (sheet of steel screen – Link Here). It comes in 3 feet long pieces so its a little bit too short for the opening in the bumper. So you will have a 1″ of the opening on each side. Im in the process of testing out a plastic one so it will be easier to install.
2. Try to remove the bumper and remove the grill black plastic panel from it. This step is not necessary but it will make your job easier. If you want, just lift the car, lay down on the ground and put a blue painter's masking tape on top of the opening where you want to install the mesh grill.
3. Outline the lines with a pencil or a permanent maker on the tape. Peel the tape off and cut where you drew the lines. After its cut to size it will give you dimension of the opening.
4. Once you have the shape of the openings, take the shapes and trace it onto the black mesh and cut it out. MAKE SURE THAT YOUR METAL SHEERS ARE SHARP otherwise line where you cut it will come out like you see on the pics below (yes, my shears were not sharp as you see – big mistake).
Also, make sure that the edge of the mesh you cutting gets installed on top of the grill opening so that its invisible once you install it because it will be hidden under the plate .
Also, what I did is, I cut out the mesh a little big bigger so I can bend the edges a little bit so there wouldnt be any sharp edges.
5. All you got left now is fit it, cut it to your likings, bend the edges and zip tie from the back. Thats it.
Here are a few shots of the grills installed. Noticed that the grill I picked is a little too short for the openings and the is a 1″ gap on each end. You can avoid that problem with the first product I listed above that comes on a roll.